White Cliffs

Ever wanted a great nights sleep without any ambient noise or light and not sure how to do it? Well, the answer is at White Cliffs. With the exception to a few essential travellers' services, most of White Cliffs is underground and it is a truly remarkable experience; even for those who may balk at the underground experience; and an easy 1 hour drive from Wilcannia (sealed road).
White Cliffs is Australia's oldest Opal field (seam Opal) and developed from a chance finding of Opal in the 1880's by a group of kangaroo shooters. Its population peaked in the late 1890's at around 5,000 and started to decline after WW1 and now boasts a population of around 200.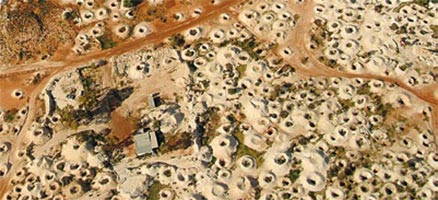 The early days were harsh; Outback heat, water shortages and lack of building materials sent the population underground. Today, the underground town works very well for locals and traveller and scarcity of water that the early settlers experienced is solved nowadays with extensive use of rainwater tanks. This plus a classic Outback Pub means the traveller will not go thirsty.
The famous Australian cricketer Bill O'Reilly (1905-1992) who Don Bradman referred to as the greatest bowler he ever faced, is White Cliffs favourite son, his father was a school teacher in White Cliffs.
GPS:-30.850444° 143.083844°
Visitor Information Centre:
White Cliffs General Store
Telephone 08 8091 6611