Lightning Ridge
'Though you've roamed the whole world over, seen most all there is to see, there are scenes you've never dreamed of, in the stone of mystery.' Laurie Hudson, Cumborah Postmaster 1947-1965.
There are many 'must see' destinations in Australia and Lightning Ridge is certainly that; home of the beautiful Black Opal and like the wonderful gem, Lightning Ridge shows its varying colours depending on how you look at it.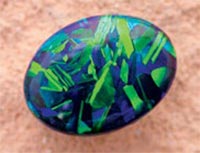 The Black Opal is elusive but Lightning Ridge's character and hospitality certainly are not. There is a wonderful welcome from the time you arrive; you can understand why some travelers decide to stay.
It is a wonderfully eccentric place and the eccentricity is comforting in this day of conformity.
You can read all there is to know about The Ridge' and even hear stories, but that will give you as much understanding as trying to smell a color.
You can experience sculptures underground, bottle-houses, antique lamps, castles, astronomy monuments, unique gardens, hills named 'Lunatic', 'Pig' and Bald', a pub crawl to 'The Pub in the Scrub', 'The Glengarry Hilton' and 'Sheepyard', and even tour underground mines. And how do you find all these thing?.. look out for a colored Car Door.
Make sense? Maybe not…it will when you go though….
Lightning Ridge is 78km from Walgett or 180km from Brewarrina via Cumborah.
GPS:-29.427790* 147.978954*
Visitor Information Centre:
Morilla Street Lightning Ridge, NSW 2834
Telephone 02 6829 1670