Broken Hill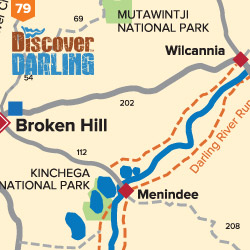 Nearby: Silverton
Broken Hill, also known as 'The Silver City', is the largest centre in Outback New South Wales. Located 1,160 km from Sydney, the city came into existence in 1885 after Charles Rasp recognised the mineral potential of the area two years earlier.
Today the city sits on one of the world's largest known silver-lead-zinc lodes; a deposit which is 7 km long and over 220 metres wide. Over the years it has become the state's premier desert centre known for its outstanding Outback artists, rich indigenous culture, unique Living Desert Reserve with the amazing Sculpture Symposium, and its easy access to a rich diversity of desert landscapes.
In 1844, the explorer Charles Sturt noted in dairy "Silver ore was later discovered on this broken hill in 1883 by a boundary rider named Charles Rasp" and it is this reference to a 'broken hill' that is attributed the origins of the towns name.
No visit to Broken Hill is complete without spending time in the city's excellent art galleries, walking down the main street and admiring the old hotels (The Palace Hotel featured in Priscilla, Queen of the Desert) and gracious public buildings, visiting the Thankakali Aboriginal Arts and Crafts Centre, travelling out to the semi-ghost town of Silverton (where so many Australian films are shot) and going on a conducted tour of the town's great mining complex and the Royal Flying Doctor Service.
Visit the Bruce Langford Visitor Centre and have a tour of the working Royal Flying Doctor Service Base. View the aircraft in the hangar and watch a unique film in the 44 seat theatre. Shop for special souvenirs and explore the Mantle of Safety Museum. If you wish to assist the great work of the RFDS then please consider a small donation here.
One of Broken Hill's favorite sons is the artist Kevin 'Pro' Hart and many of his works can be viewed at the Pro Hart Gallery where his famous painted Rolls Royce is also located.
Although Broken Hill is not located on the Darling River, it is the perfect side-trip of the Darling River Run or visa versa. If visiting Broken Hill, a short trip (less than 1 hour) to Menindee, will enable the visitor to experience the icon Darling River, Kinchega National Park, and the amazing Menindee Lakes.
Broken Hill is ideally located and well serviced and offers the traveller a great base to explore the town and discover the Outback at its doorstep.
GPS:-31.959193° 141.466614°
Visitor Information Centre:
Cnr Blende and Bromide Street,
Broken, Hill, NSW, 2880
Telephone 08 8080 3560
www.discoverbrokenhill.com.au for more information