Wentworth
Beginning or end of the Darling River Run
Upriver: Pooncarie (116km)
Downriver: Discover Murray River Trail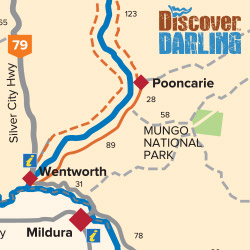 'Magnificent trees droop like willows to the waters edge with evening's mildest radiance in their foliage, throwing a soft haze over the distance…' Charles Sturt, 1844.
Wentworth is located at the junction of Australia's two great rivers – the Murray and the Darling. Originally named Hawdon's Ford, it was surveyed in 1858 and named Wentworth in 1859 after the Australian explorer, journalist and politician William Charles Wentworth.
Before the Darling River was opened up, Wentworth was the hub to which much of the woolclip was brought for shipment to either Echuca (for transport to Melbourne) or Morgan (for transport to Adelaide).
Due to the efforts of the early river explorers in the late 1850's William Randell (Mary Ann) and Francis Cadell (Lady Augusta), the Darling River was opened-up for trade and Wentworth became the first river port of the Darling; although its early development can also be attributed to the river trade already being developed along the Murray.
By the late 1880's Wentworth was Australia's busiest inland port. In 1895, 485 vessels were recorded as passing through the Customs House (31 in one week alone).
Today, Wentworth is a large and prosperous township with lots for the traveller to see and experience and is an ideal base to explore some amazing sites in the area.
Wentworth is the first (or last) point of the Darling River Run and is not only a wonderful town to visit and provides great access to the Darling River (and the Discover Murray River Trail). The upstream section to Menindee is great for exploring.
Top 10 things to do in Wentworth
Wentworth Visitor Information Centre:
Darling Street, Wentworth, NSW
Telephone 03 5027 5080
www.VisitWentworth.com.au
GPS:-34.106868° 141.919215°
Side Experience
---
Darling River Run
Pooncarie to Wentworth (Murray River) (116km)