Silverton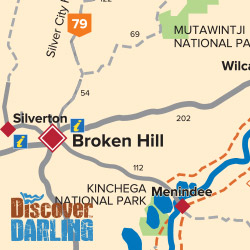 Nearby: Broken Hill
Located only 24 km from Broken Hill (1,183 km west of Sydney), Silverton has become a popular destination for both tourists and film crews.
The tourists come to experience a real ghost town and consequently there are a number of shops, art galleries, museums and pubs which have grown up to meet their needs. Its location to the Outback (drive a few kilometres out of town to 'The Breakers' and marvel at Mundi Mundi Plains and the desert which stretches to the horizon) and its proximity to all the creature comforts of Broken Hill have ensured Silverton is popular with travellers and film crews needing to shoot desert and outback scenes.
Silverton, originally called Umberumberka, came into existence in the early 1880's, proclaimed as a town in 1883, the same year it got a post office, and within a few years support a population of 3,000 people.
The area of the Barrier Ranges was bustling with activity as mining claims spread throughout the area as many sought their fortunes from mining.
The township established itself to service the miner's needs and it location was due to the flat land and water supply.
With the emergence of mining in Broken Hill in the late 1880's, the residents began to leave Silverton for the booming activity of Broken Hill – in fact many didn't just leave, they actually moved their houses as well to the new centre.
Today, Silverton is the most lively ghost town there is… in fact, the Silverton Hotel at the Burke St corner has been used in films as diverse as Wake in Fright, Mad Max 2, A Town Like Alice, Hostage, Razorback, Journey into Darkness and Golden Soak.
A drink at the historic pub is a must for any visit as is the Silverton Pioneer Museum, the Gaol and Court House and the various local galleries.
Here is a true Outback experience and you can return to the comfort of Broken Hill feeling no pain or hardship at all.
GPS:-31.885923° 141.232907°
Visitor Information Centre:
Beyond 39 Dips – 2 Layard Street,
Silverton NSW 2880
Telephone 08 8088 7566
www.discoverbrokenhill.com.au for more information